What Our Clients Are Saying
"I am very grateful to Library Strategies for connecting us with a pair of consultants who spent time understanding our organization and giving us solid advice for moving forward. My experience with Library Strategies was outstanding. "

Duluth Public Library

"They know the issues and trends facing libraries and friends/foundation, and they have 'been there, done that'."

Grosse Pointe Library Foundation

"Bringing in Library Strategies helped us overcome some barriers that were in place in the past and set us on the right path towards the future."

Indian Trails Library

"I would recommend Library Strategies without hesitation. I think they're the best there is. Sue and Peter are top-notch professionals. They listened to us carefully and really understood where we are and where we need to be."

Friends & Foundation, St. Helena Public Library

"It was so valuable to have an outsider come in and look at our facilities; what changes are needed; recommendations for those changes; why those changes need to be made. It really opened our eyes."

Wadsworth Library

"It's one thing to get expert advice, which Library Strategies certainly provides, but it's even more gratifying to feel that we've enlisted a partner who is as interested in the mission of assuring library services as we are.  It's remarkable that we're not only getting some very, very valuable 'how-to' guidance, but we are getting inspiration, too."

Fairhope Public Library Foundation

"I would recommend them the Rapid Results planning process, we really liked how streamlined it was, our board was especially pleased. It was really good to have this process, previous plans had been too library-centric, it is nice to have a plan that really focuses on the community."

Gwinnett County Public Library

"I would recommend Library Strategies to any library considering starting a Foundation or to any library wanting to take their existing Foundation to a level of more community impact."

Stark County District Library

"Library Strategies was wonderful! Area librarians who participated in developing some of our past plans tell me this year's planning process was better by far. I know this is due to Library Strategies' guidance throughout the process."

SAMMIE Library System

"I would highly recommend Library Strategies, even to smaller library organizations who may feel like they don't have the money for this type of consultant. What we paid vs. what we got out of it, made it not only a reasonable expense, it moved us forward in ways that would have been difficult and taken more time if we hadn't used their services."

Marshall-Lyon County Library

"I would definitely recommend Library Strategies to other library organizations. The strategic planning process with them was inclusive and enjoyable for the staff, board, and our members."

SENYLRC
Partners We Work With
MN Literacy Council
Literacy Minnesota
MLC serves Minnesotans of all ages — from 3-year-olds mastering their ABCs to grandparents determined to get their GED. MLC is able to reach nearly 90,000 children and adults each year thanks in great part to the more than 2,000 volunteers and 115 national service members they train annually.
Rainbow Research
Rainbow Research
Rainbow Research, Inc. is a not-for-profit evaluation and research organization committed to improving the effectiveness of socially concerned organizations and initiatives for over 40 years. In partnership with Library Strategies, Rainbow Research conducts evaluation of Library Strategies' literacy and capacity building projects at community, state, and regional levels.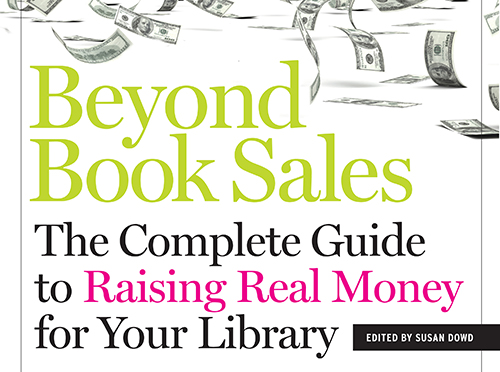 Our Book
"Beyond Book Sales: The Complete Guide to Raising Real Money for Your Library" will guide you through proven methods of effective library fundraising.