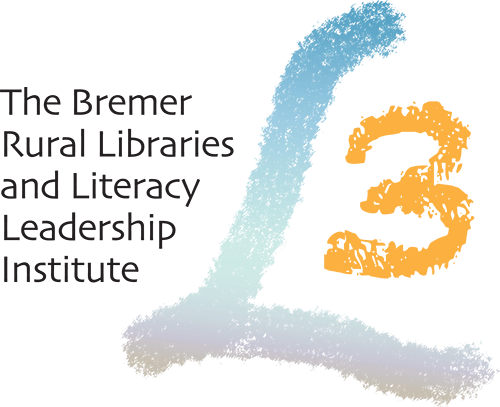 L3: Bremer Rural Libraries & Literacy Leadership Institute
Strengthening individuals and communities by enhancing rural libraries and literacy programs.
Inspiration
The Otto Bremer Foundation is committed to building the strength and integrity of libraries and literacy programs within the rural communities it serves. As part of this commitment, the Foundation initiated the Bremer Rural Libraries and Literacy Leadership Institute ("L3") in 2012—a pilot program focused on building the leadership capacity of twelve rural Minnesota libraries and literacy programs. With the great success of this pilot year in Minnesota and second year in Wisconsin, the Otto Bremer Foundation launched a third stage of the Institute in North Dakota from 2014-2016. L3 is sponsored by the Otto Bremer Foundation and presented by Library Strategies and the Minnesota Literacy Council.
Program Overview
Applicable libraries and literacy organizations were selected in each state to participate in the one-year training and mentoring program. Full scholarships and funding were provided to participating organizations by the Otto Bremer Foundation. L3 provides targeted training for libraries and organizations built on organizational assessments and capacity-building plans, while providing each organization with a small grant to support organizational goals.
Participants take part in three training sessions and are assigned an experienced, dedicated mentor who works closely with them over the course of the L3 program. Participants in the Institute work on building the leadership capacity of their library or literacy program. After a detailed capacity assessment is conducted, participants attend the Institute training program. Training topics are tailored to fit the needs of the participating organizations.
Topics covered include:
Conducting fundraising activities to raise private support
Advocating for public funding  for your organization
Building strong community partnerships
Building and managing a strong volunteer or library Friends base
Improving administrative infrastructure
Planning for leadership transition
Recruiting and developing a strong Board
Making effective programming decisions
Using technology for maximum effectiveness
L3 participants form a cohort of like-minded library and literacy professionals. This provides an opportunity to develop relationships with other leaders who are also focused on improving their organizations and being a strong partner in their community.